Forever's Vitlize® was created with men in mind from the start. Everything from prostate health to testicular function and urinary health is supported by our comprehensive formula. This unique nutrient blend contains the ideal combination of vitamins, herbs, and minerals for men.
Many adult men, particularly those over the age of 40, consider prostate health to be a top priority. We chose substances with care to provide support in a natural way. Vitamins C, D, and E, as well as lycopene, selenium, and zinc, have all been demonstrated to help with prostate health.
forever Vitolize Men supplement from Forever Living is an effective  natural remedy for managing Benign Prostatic Hyperplasia (BPH) in men.It has the ability  to reduce enlarged prostate to normal size. Vitolize Men is  formulated with botanicals like Saw palmetto, pygeum and pumpkin seed and has everything a man needs. Vit♂lize® is an ideal blend of herbs, vitamins, minerals and lycopene provides complete prostate and hormonal support  while also boosting normal urinary flow.
We recommend Vit♂Lize® vitality supplement for men who have reach the age 40

and

 

above to provide effective

Prostate support
As a man, your prostate gland begins to expand beyond the age of 40, maybe due to hormonal factors. It can grow from 20 grams to 100 grams. It squeezes your urethra as it grows larger, and you start to feel changes in the way you urinate. Your urine flow becomes sluggish. It is no longer able to travel a long distance and may land on your legs. Benign Prostatic Hyperplasia is a noncancerous increase in the size of the prostate gland (BPH).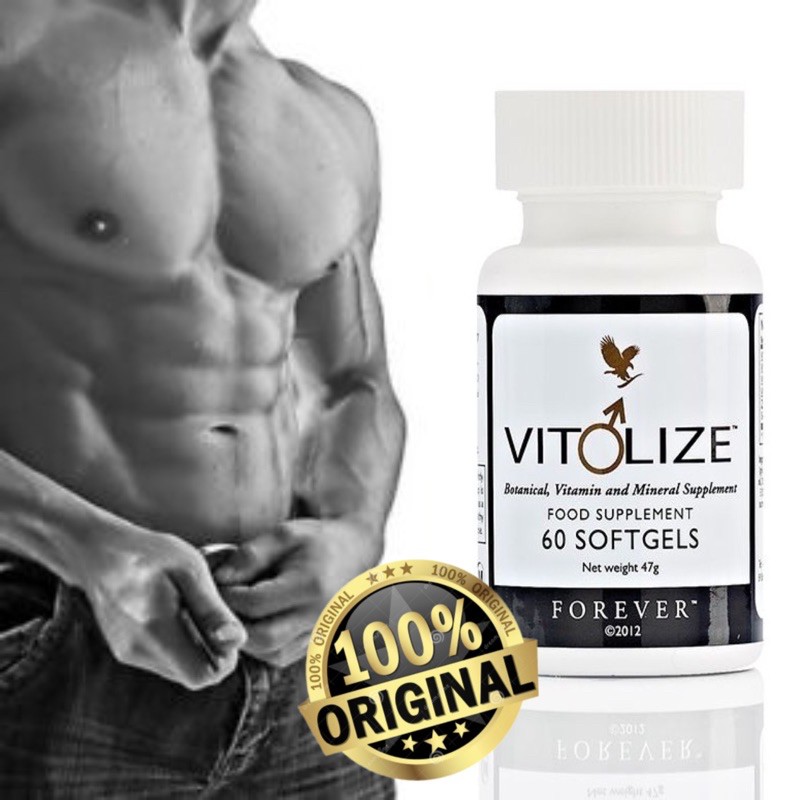 If you are experiencing any of the following symptoms then it's high time you get prostate treatment with Forever's Vit♂lize®
-Frequent urination, especially during the night.
-Excess passage of urine at night
-Pain or discomfort while urinating or ejaculating
-A feeling of not being able to empty the bladder completely
-Weak or interrupted urinary flow
Why Forever Vit♂lize® men

supplement

  is the best remedy for  Prostate Enlargement in men
Vitolize Men contains natural ingredients like Saw palmetto, Zinc, Beta-sitosterol, Pumpkin seed powder, Pygeum, Stinging nettle, lycopene. They work together in a number of ways including;
-Supporting urinary tract health.
-Promoting normal prostate size.
-Helping to regulate normal DHT production.
-Assisting to reduce pelvic discomfort.
Saw Palmetto reduces prostate hypertrophy by blocking the conversion of testosterone to dihydrotestosterone (DHT). Zinc inhibits the action of 5-alpha-reductase to reduce prostate size. Beta-sitosterol inhibits the action of the enzyme 5-alpha reductase, which converts testosterone into DHT. DHT is one of the main contributing factors to BPH. Pumpkin seeds minimize the symptoms of BPH since it inhibits testosterone. Prostate Defence from Nature's Field is best men's prostate supplement. It shrinks down your enlarged prostate to a healthy size, releasing your urethra from the pressure so you can urinate normally.
How To use It
Take two Vitolize tablets daily with water when eating A bottle contains 60 tablets.
Key Ingredients
Lycopene Oil
Pygeum Extract
Saw Palmetto Extract
Other Important Products To combine with Vit♂lize®
Forever Aloe Berry Nectar®: Cranberries add a refreshing zing to our aloe vera gel, which is balanced by sweet flavors from apples. The outcome is a pleasant drink that is high in phytonutrients and vitamins while also helping in digestion. Aloe berry nectar has natural cleansing capabilities that help in the absorption of nutrients from our diets into the bloodstream while also encouraging the growth of beneficial bacteria. Aloe vera's specific polysaccharide, acemannan, and other nutrients help in immune system support.
Forever ImmuBlend®: Forever ImmuBlend® is a comprehensive immune support supplement made up of a potent blend of natural botanicals and scientifically proven components. To produce a combination that supports all components of the immune system, we've combined the finest of science and nature. Beyond the digestive tract, this supplement boosts the immune system. To deliver you a complete variety of powerful substances, we took up an entire approach. Maitake and shiitake mushrooms help to promote immune cell formation and cardiovascular function, while vitamins D and C help to fight free radicals and strengthen the immune system.
Delivery Information
To order the Vit♂lize® supplement, click on the Add To Cart button and pay conveniently online and if you would like to combine Vit♂lize® with other recommended products (Berry Nectar & ImmuBlend) for best result, click on the button below to chat on  WhatsApp.
All orders will be delivered within 2 to 3 days maximum and orders within Lagos can be delivered on the same day depending on the time of the order.
We accept Pay On Delivery and can deliver nationwide.